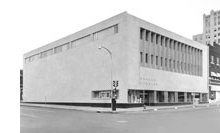 ---
» Challenging Preservation Standard #1 The new use must be compatible with the original use.
(NPS Standard Number 1 states: A property will be used as it was historically or be given a new use that requires minimal change to its distinctive materials, features, spaces, and spatial relationships.)
We are currently working on a mid-century public library building, located in a downtown historic district.  As communities discard many older specific use structures, preservationists need to consider how to keep significant buildings alive and viable for future use.   As we investigate the subject of new uses within mid-century buildings, one thing is clear -  there seems to be very little published regarding the subject.
If we consider that the only reasonable use for an abandoned historic library building with unique spaces and very few windows, is a new museum or school, I believe we have missed an opportunity to provide new uses that meet the changing needs of the community which it serves.
Combining NPS Standard Number 1 with Standard Number 9 is an excellent way to begin the process.  Standard Number 9 recognizes the need for change, and in summary states: "New additions, exterior alterations, or related new construction shall not be discouraged when... the new work is compatible with the massing, size, scale, and architectural features to protect the historic integrity of the property and its (neighboring) environment.
If we ignore additional uses that are in great demand within historic districts today, we are setting many significant buildings up for demolition.
-Mike Sikes